On the 10th November, the boy and I went to
Sokyo
at The Star. I have been hearing so many good things about this place! That morning I jumped onto their site, hoping there would be an available booking, and to my luck there was a 6:15pm booking! I thought it would be quite hard, which I guess it was if you wanted anything between 7-9PM as it was all booked out.
We got there and the environment is so modern, open layout, and everyone looked like they were really enjoying there time. We were seated without no delay and our waiter was very nice. For drinks I got their signature apple iced tea which was amazingly refreshing and very fruity which I loved.. so I ended up getting two!
We ordered 6 dishes..
Kingfish Miso Ceviche
Green chilli, crispy potato
This was so good! So fresh, and the crispy potato was a really good texture to add to it. It was a bit spicy so I tried to dodge the green chilli. I am a very weak chilli eater though. It was the main highlight for the night.
Chilli garlic Prawns
Spicy umekosho, mizuna
The prawns were very fresh which made it more tasty and it also had a bit of a spicy taste to it.
Beef
Short rib, caramelized eshallots, BBQ teriyaki
I love beef, so this was very juicy, and perfectly cooked. I didn't like the eshallots as I felt they were cut up too big for my liking but the boyfriend enjoyed them.
Cuttlefish
Chilli de arbol, tarragon ponzu sauce
The batter was so light and the cuttlefish was so soft, not chewy at all. The ponzu sauce really complimented it. The batter really does make a difference. I felt that the battered moreton bay bug at Tokyo was so bland due to the poor batter, so it really does make a big difference!
Oyster
Osetra caviar, yuzu juice
This dish I accidentally ordered, thinking it was just fresh oysters. I'm glad I did get it thought because I've never eaten oysters like this before and I really enjoyed it. It is so important how fresh the oysters are as it really makes a difference.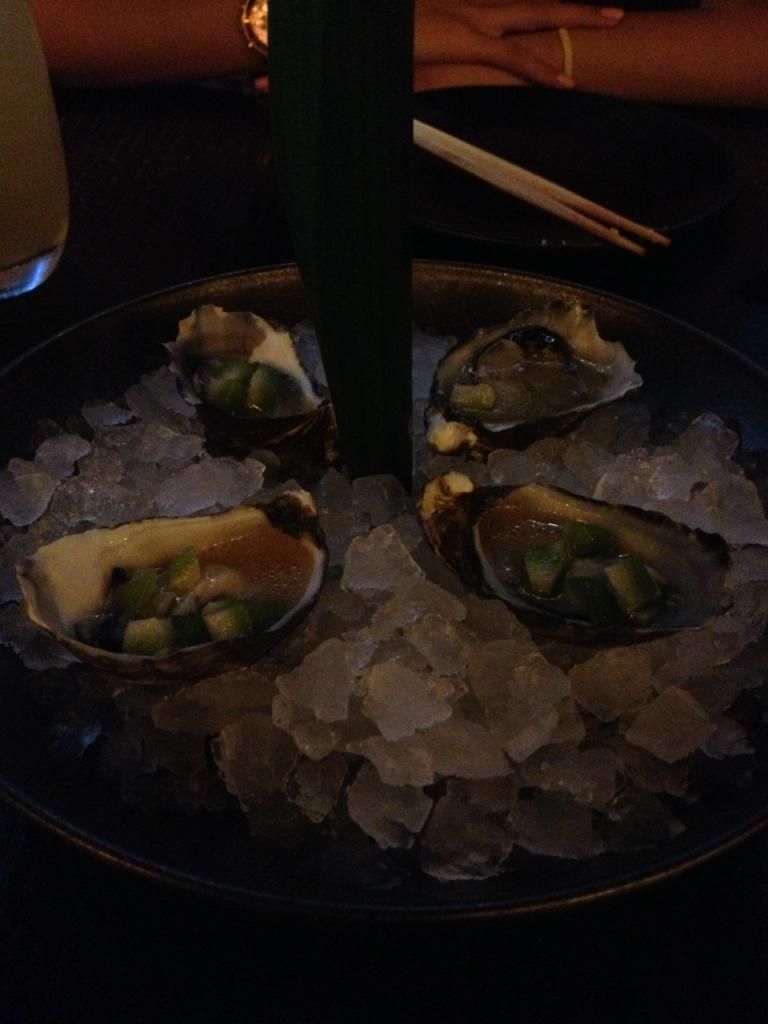 Pacific Oyster
Kyoto baby peach, ginger vinaigrette
These were the oysters I was meant to get. It was ok.. the peach in it was really sweet so it surprised me when I had my first one as I forgot about the peach. I love my oysters with a zingy lemon taste so I didn't really like this.
So I got the dessert platter, as I am such a dessert queen that I couldn't just pick one. I have a habit of going to new restaurants and wanting to try all their desserts, so whenever there is a platter to taste a bit of everything, you know i'll get it without a question!
So the first part of my dessert..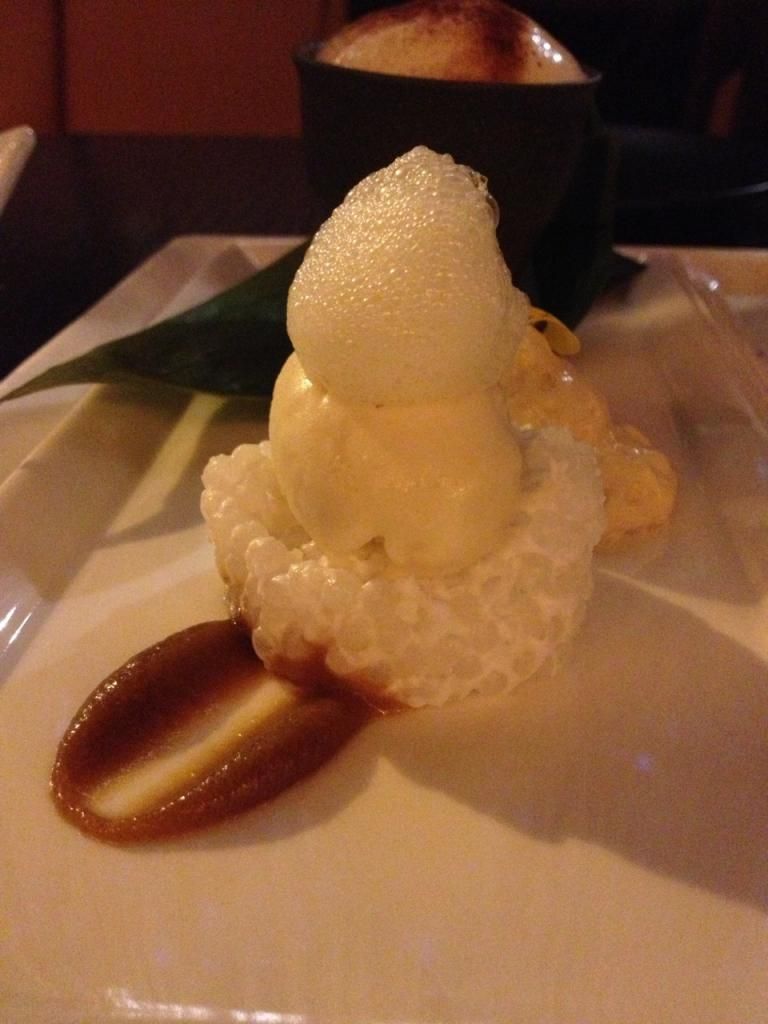 Miso Tapioca
Red tea foam, coconut cream, miso caramel
This was so strange. There was so many different textures going on, my mouth was going crazy! The sago was very different especially with the ice cream and caramel. I honestly didn't like this much.. Unless you like trying desserts with strange/different textures then I wouldn't order this.
Sokyo "Mochi Ice Cream"
Yatsuhashi kyoto mochi, frozen strawberry milk shake
OH EM GEE. This was amazing!! The mochi so soft on the outside, and inside beholds a wonderful surprise.. frozen strawberry milk shake could never taste so good. Such a good combination. If you go here you MUST get this, you will never regret it. It was so good I had to order two more.
Yamazaki Caramel Macchiato
Coffee ice cream, coco nibs, whisky foam
This was really nice as well. There were 3 layers and they really went well together. The coffee was very strong so if you don't like coffee then this isn't for you.
There was one more dessert and for some reason I can't find the photo! I will see if the boyfriend has it on his phone somewhere. It was Goma Street, Caramelised white chocolate, sesame ice cream. I remember this being very different but did blend very well together as well. Not a favourite but it was nice.
For 6 dishes we felt pretty full. Not the bloated full where you can't breathe but just satisfied. Between two people, six dishes is enough to please you. The bill came to $242, including drinks.
Will definitely go back to try the other dishes on the menu. I have read really good reviews on their moreton bay bug tempura and Wagyu +5 T-BONE 610 grams! So I will be trying those out next time.
I would give this place 4/5 stars. Why I rate it a bit less than Toko is because the flavours don't surprise your taste buds as much.. but that could be the case of not choosing the right dishes!