Last night was our Two Year Anniversary and the boy took me out to
Sepia !
Parking is very close to the restaurant, there's probably around 2-3 car parks on that road so you don't have to worry about spending a few minutes going around in circles.
When we got to the restaurant we were greeted by a lovely waitress and we were seated right where the mirrored wall was. It's a very peaceful environment, as it should be and some jazz music playing in the background.
We decided to get the 10 course (inc oysters) degustation which is $160 p/p to get a full feel of their menu.
First off the oysters... which is optional, but it is a must as it starts the menu off really well!
The oysters were very fresh and the vinaigrette gave it a very subtle zing which allowed you to taste the freshness from the oysters still which I find is very important.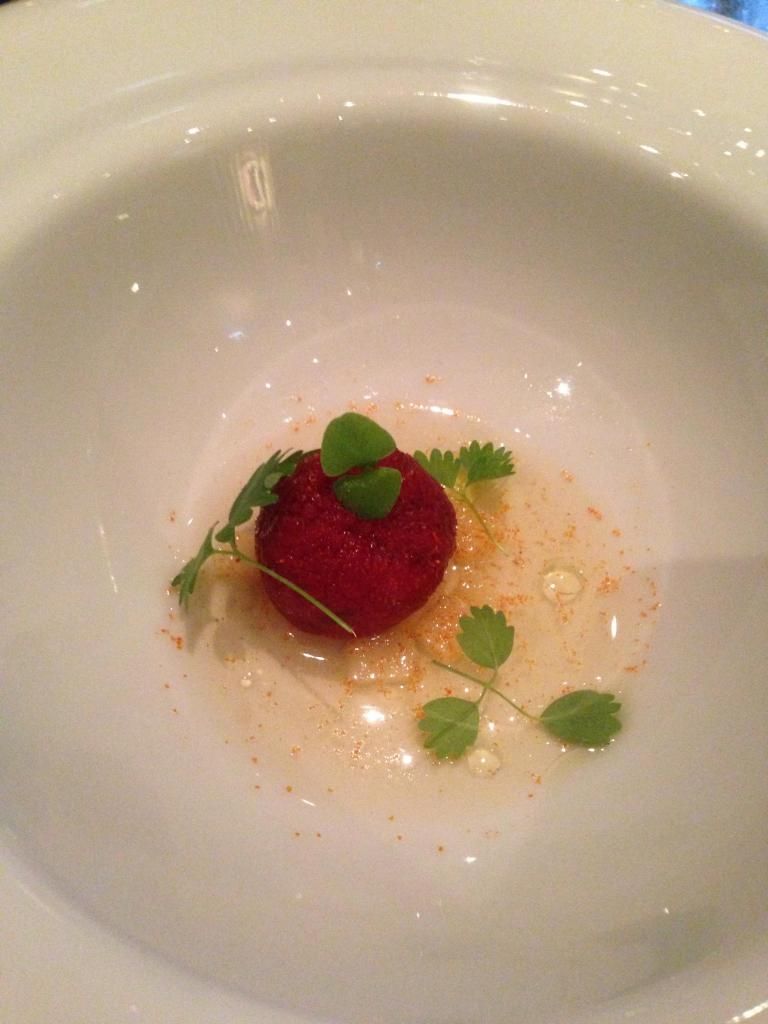 Amuse bouche
This was very different! It was a cherry tomato in some sort of broth and diced bamboo shoots. I found it very refreshing and the tomato was so sweet and juicy. The bamboo definitely gave a crunch to it!
"Sushi nigiri"
Sashimi Tuna, seared smoked ocean trout, poached banana prawn
YUM is the word for this. The sashimi was so fresh and the smoked flavour throughout all three was so pleasant. It was very flavoursome! Wish there was more :)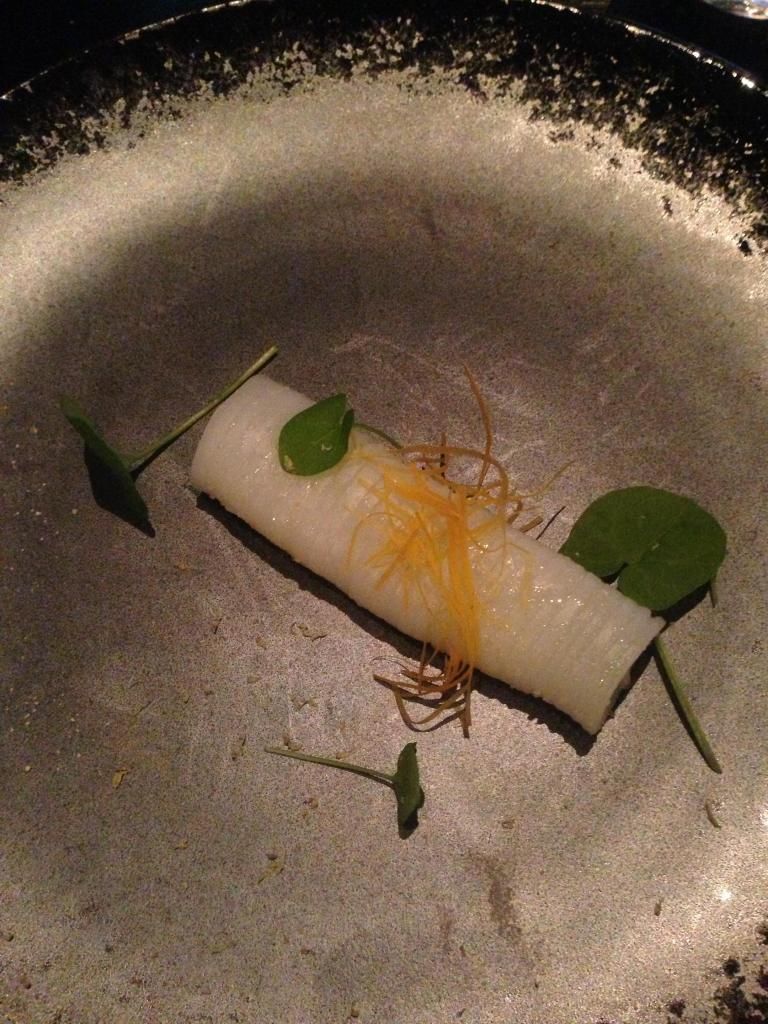 Butter poached Port Lincoln squid, barley miso cured egg yolk, lemon, wild woodland sorrel
I have never eaten squid like this before and I wish every time I ate it, it tasted like this! It was so soft and silky and had a subtle butter taste to it. A very clean and simple dish.
New Zealand scampi cooked over Japanese charcoal, sudachi lime, shellfish mousse, Japanese land seaweed
Now this was packed full of flavour and texture. The shellfish mousse was so silky and tasted so yum, fresh, flavoursome, it dances off your tongue! The shellfish definitely gave a hit to the scampi which is perfectly cooked. Together they are a perfect match.
Charcoal smoked freshwater eel, yuzu curd, toasted almonds, tapioca, licorice, watercress and nasturtium
***HIGHLIGHT OF THE NIGHT***
I had to put that in BOLD. This was the best dish! I have never eaten eel so soft and I've had eel before but I always got this ocean after taste from it. But after eating this it has totally changed my mind about it. The charcoal smoked flavour is so pleasant to the mouth. The boy also said this was his favourite of the night. A must have !!
S. A. Lamb, goat cheese and sake kuzu dumplings, fennel cream, black olive, miso vinaigrette, fennel molasses
This dish was probably the least liked. The lamb was definitely succulent, juicy and perfectly cooked, but the goat cheese and sake kuzu dumpling didn't go with my taste buds at all. I felt the whole dish was everywhere and there was too many different textures that didn't go well together for me.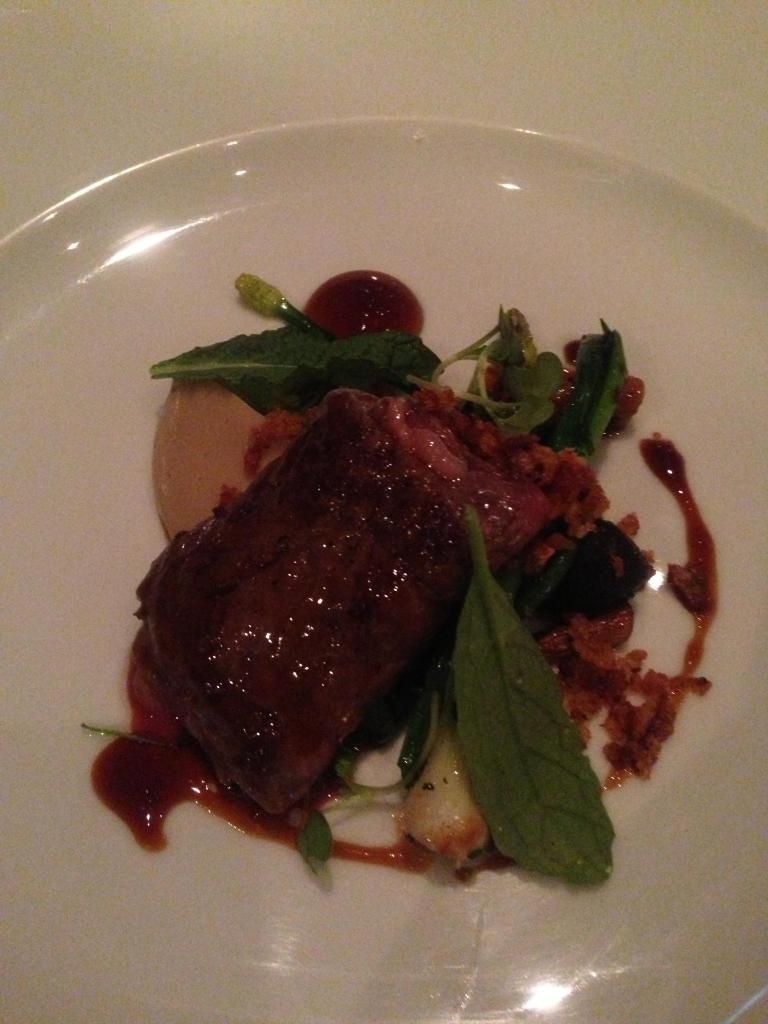 Seared rolled David Blackmore wagyu beef, chestnut mushroom, roasted red onion juice, wasabi
fried potato and kombu crumb, citrus soy
I didn't mind this, Wagyu was good but I felt like the fried potato and kombu crumb took over the whole dish, all I could taste was that, but that might just be me as the boy thoroughly enjoyed this dish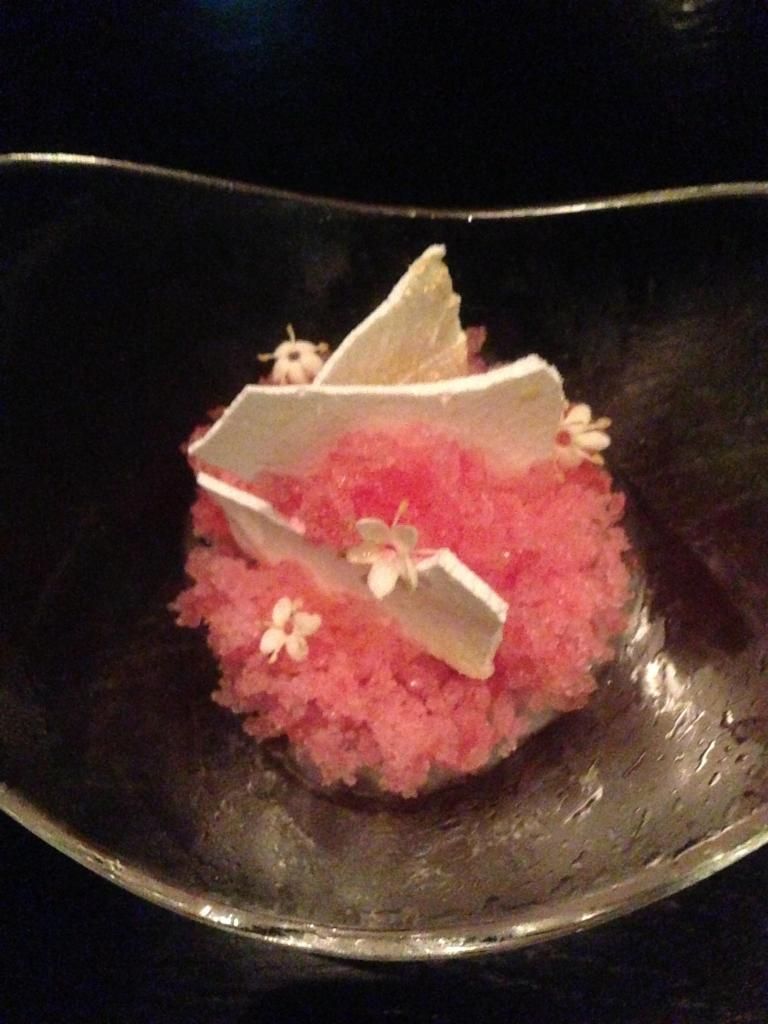 Pre dessert
This had raspberry sorbet, meringue, and lemon curd in the middle. It was very nice and refreshing, not too sweet at all.
"Summer chocolate forest"
Soft chocolate, hazelnut and almond praline, rose geranium cream, sour cherry sorbet, blueberry jellies
green tea, licorice, chocolate twigs, crystallised fennel fronds
This was such a disappointment. I heard so many reviews raving about how good this way. Too me it was just so bland with different chocolates put together. It had a good texture but was so dull.. the Sorbet was ok... but I felt like it needed more to make it "WOW"
Petit Fours

By this time we were so full! This was ok nothing special just tasted like ordinary chocolate, orange, white chocolate and green tea? chocolate...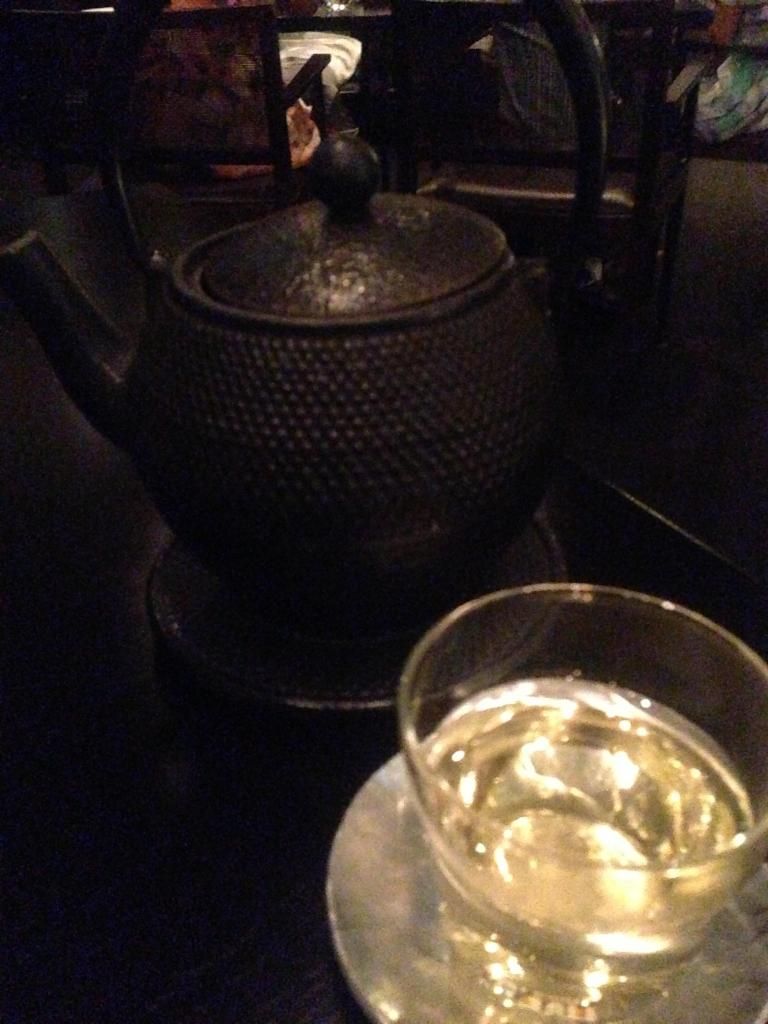 Oolong Tea
This is so good had a milky taste to it which was crisp.. I needed this so much as it was FREEZING inside there. You should probably bring a cardigan in there as I was actually getting goosebumps.
Overall it was a good night! There was more good and memorable dishes than bad so it's definitely a must go. You would need to give yourself atleast 3 hours for the full degustation. The food comes out very quick (compared to my experience at Tetsuya which I was there for 5 long HOURS)