On Feb 9th, for the weekend two girls and I went to Melbourne, so I thought i'll make the most of it and do some fine dining!
Our booking was at 6pm and the place is located within the Crown Casino which was decorated amazingly since it was the Chinese New Year.
When we first entered and walked down the stairs we were greeted with all the waitresses saying 'Hello' in Japanese which stunned me, but was a nice welcoming!
Before going in the restaurant I had done my research and knew exactly what I wanted to order and tried out some different things as well.
I read a few reviews saying the service was quite slow when busy.. and I found that is true. We were seated for a while and we had to ask for the menu... which was a bit disappointing.
We were all so hungry so everything was taking extra long!
Yellowtail Sashimi with Jalapeño
This was so fresh and yummy! Loved every single bite.. Really wanted more!
Crispy Rice with Spicy Tuna
MUST ORDER! The rice was so crisp and the tuna went so well with it.
Beef Tataki with Ponzu and Garlic Chips
Another delicious dish.. not many faults on this night! The beef was soft and juicy with the sauce.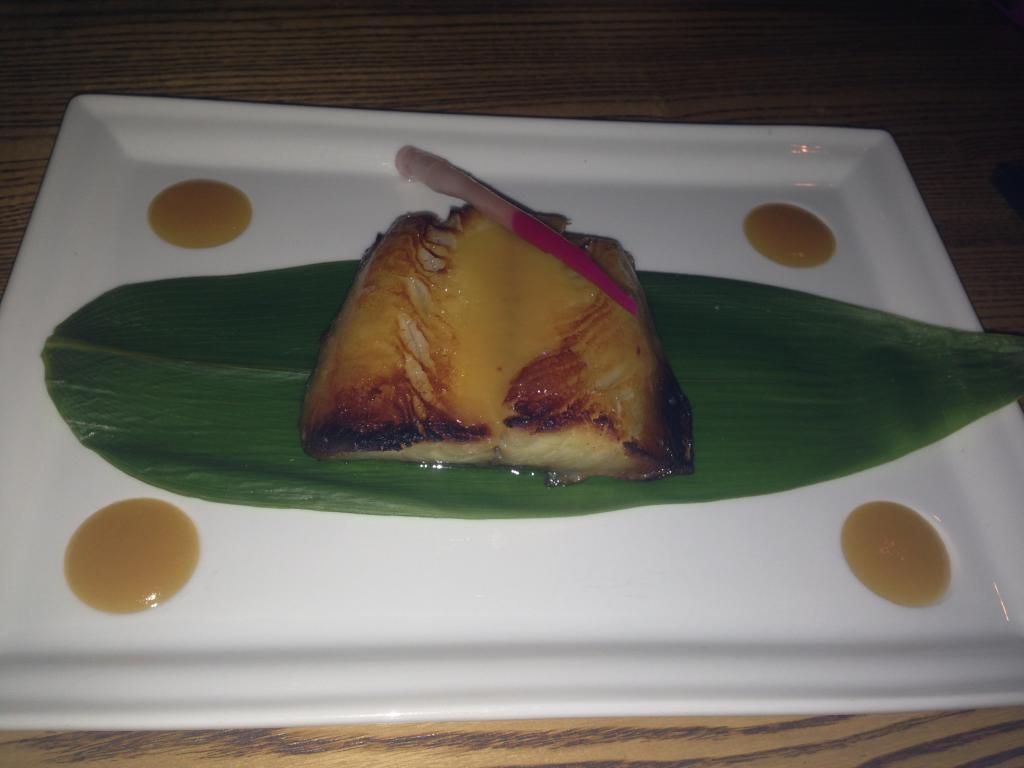 Black Cod Miso

This dish came out with rice, and thank god it did. I found this really flavoursome that it needed the rice to balance it out. The two other girls enjoyed it on its own.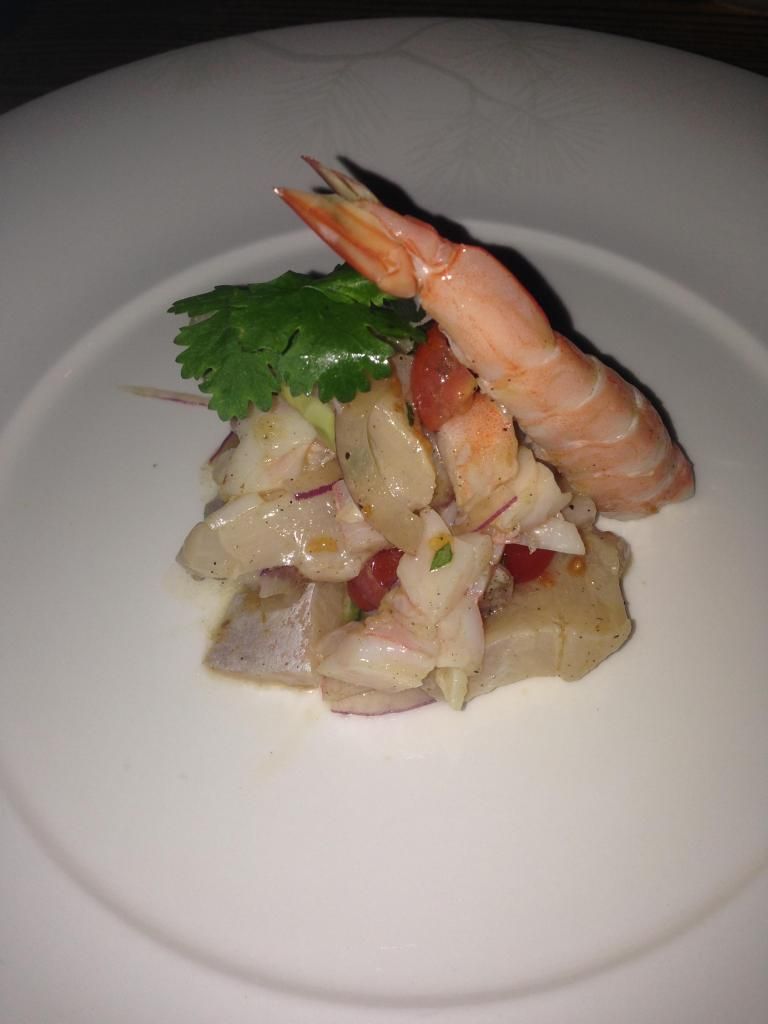 Seafood Ceviche

I've never had this before. One of the girls was saying how nice this is as usually this dish doesn't come with a combination of seafood at other restaurants, and if it did it was quite expensive, so I was happy with this dish! From what I remember there was scallop, king fish, prawn, and squid?
King Crab Tempura Amazu Ponzu

This was actually ordered incorrectly but I'm glad it happened! It was sooo good! Soft on the inside and on the outside it was nice and crisp! I think the sauce should have been separate from the crab though as towards the bottom it made it soggy :(

Beef Tenderloin

Served with choice of Teriyaki, Anti-Cucho, Wasabi Pepper Sauce)
We got this with the Wasabi sauce! Loved how there was peppercorns in it, gave it an extra crunch and spicy taste.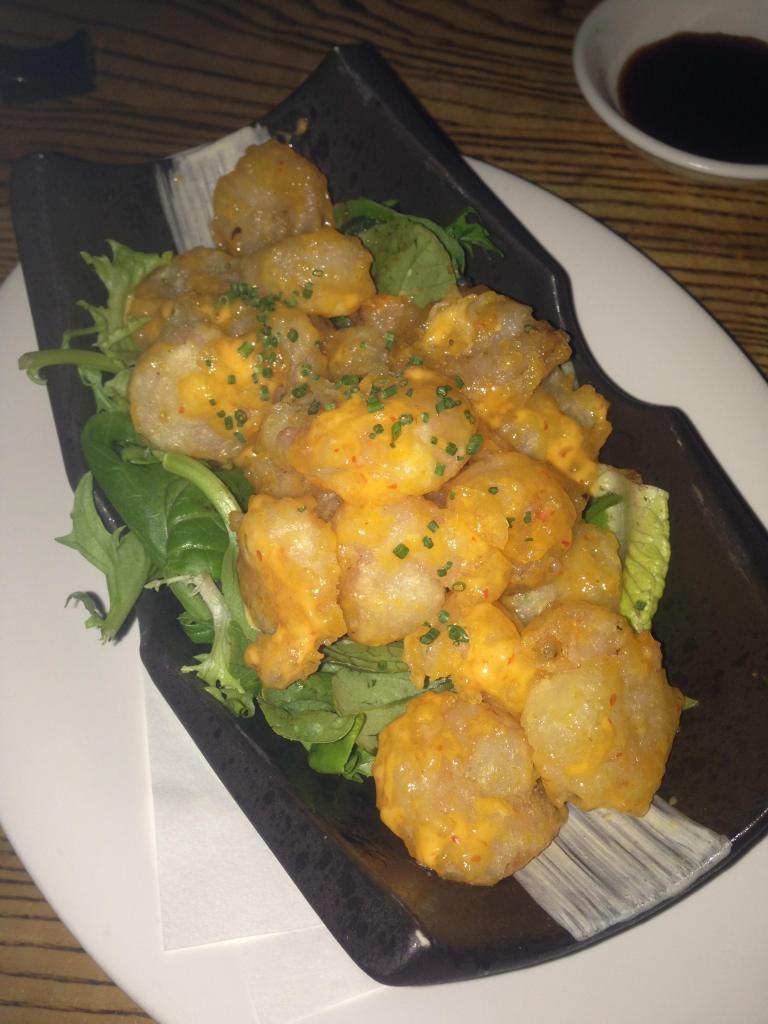 Prawns with Spicy Garlic Sauce

Much better than your average garlic prawn. They're really good at making dishes crunchy here! Very flavoursome and a good amount of garlic sauce.

Soft Shell Crab Roll

By this time we were so stuffed! This was better than the average sushi roll, but I was so full I could not remember anything special about it.. really just wanted this out of the way for dessert :)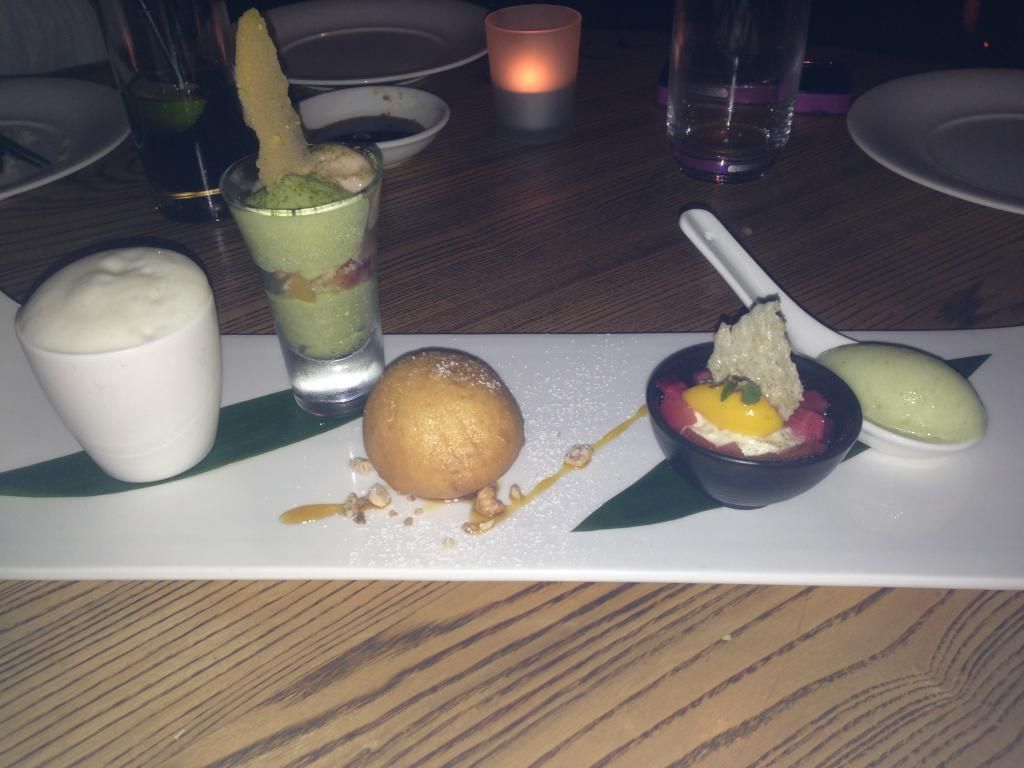 Dessert tasting platter

YUMMMOOO
From what I can remember.. It was apple gelato, coffee something (in the white cup), raspberry something.. and the puff pastry had gooey chocolate ! Which was absoultely divine.
I am very sorry about the poor description as it was a few weeks ago, but everything on that plate was amazeballs.
For three girls we sure ate alot! The bill came to around $3XX. Which I found reasonable and every dish was good.
I would definitely come back here.
I would say the food here is similiar to Sokyo, and on their menu you can find all these dishes as well. So next time I go Sokyo I might order the same things and do a review comparing the restaurants.